Whatever  electrical your needs, MacQuarrie Electrical Services is your top choice for electricians in the North Bay Area. We been servicing the Sonoma County and surrounding area for over since 2007 and we have the skills, insights, and knowledge to complete any electrical job from start to finish.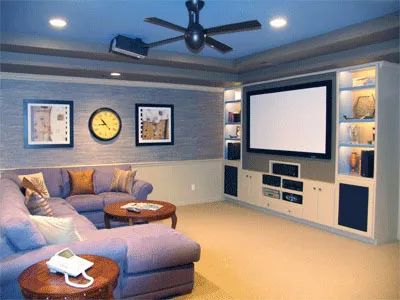 Home Automation , Audio & Home Theatre Installations
Home Automation

We specialize in the installation of home automation, Audio/Video solutions and home theaters. We work with architects, custom homebuilder's, homeowners, interior designers and renovators, providing innovative solutions in today's age of home automation control systems. Whether you are in Sausalito, Tiberon or Marin County, MacQuarrie Electrical technicians are qualified to handle any residential or commercial automated systems project!

Audio & Home Theatre Installations

At MacQuarrie Electrical, we believe in the ultimate home theatre experience.

Our professional technicians are skilled in installing the perfect home theatre set-up for you and your family. Our technicians specialize in surround sound systems wiring and set up, big screen televisions, projectors, and remote lighting and dimming systems. 
Generators
What do I need a generator for?
You need a generator to restore power to critical life safety items, or to your entire home, if you happen to lose power from a storm, natural disaster, downed power lines, lack of maintenance on a panel, or other event. Having a generator installed in your home can provide you with power to run equipment in your house while others are still in the dark.
How long could you live without these
important items?
Medical Life Safety Devices
Computer
Internet
Appliances
Heat
Sump Pump
Air Conditioning
Stove
Security Systems
Television
Radio
Fridge/Freezer
By installing a generator, these items can still be used while power is out. A generator can keep power going to the refrigerator or freezer keeping the items cold so they do not go to waste. On the average, you could lose up to $500 in perishables per occurrence!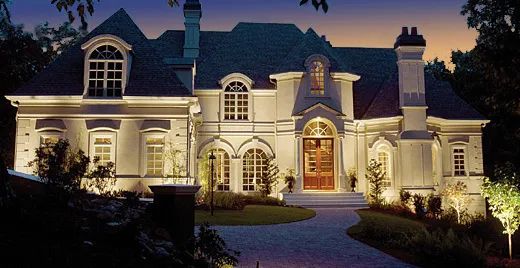 Custom Homes
Are you ready for the home of your dreams?

MacQuarrie Electrical Services provides services to builders and homes owners for new construction projects. Regardless of the size and scope of your new project, your needs become our first priority. We work to learn your specific needs and preferences and mold our services to the project requirements.

Today's homes are larger and more sophisticated than homes of the past. Electronic devices, lighting controls, home automation, and communication wiring require careful planning and engineering to execute the work. The electricians of MacQuarrie Electrical Services are trained in these sophisticated new home wiring systems and understand how to lay them out and install them. We routinely work with architects, interior designers and general contractors to design, engineer, integrate and consolidate these features into the basic house wiring. Regardless of the size, age or complexity of your home, the professionals at MacQuarrie Electrical Services will get the wiring done right the first time.

MacQuarrie Electrical Services has extensive experience in setting up any type of home, ranging from an average size home of 1,800 square feet to a 25,000+ square foot mansion. We provide competitive rates per square footage and have a team of electricians that can complete any project size.

Commercial Electrical Services
MacQuarrie Electrical specializes in assisting businesses by offering a solution to design and install safe and effective lighting and electrical systems for commercial projects throughout the San Francisco Bay Area. From a psychological aspect, good lighting design combined with state of the art technological design can motivate employees and improve performance, safety aspects and contentment throughout the working day.

MacQuarrie Electrical is committed to providing the best, most comprehensive conceptual engineering, design, estimating, and budgeting during the preliminary stages of an electrical project; and then the most effective project management, administration and material/equipment procurement available today and the highest standards of quality, productive, safe, on-time construction work. MacQuarrie Electrical has focused on one main goal, to provide the highest quality work possible for the price, and letting that finished work speak for itself.

We pride ourselves on completing projects in a timely fashion, which we accomplish by keeping the schedule in constant focus. This allows us to help you to maintain your timeframe for opening your business.

So, whether you are in need of a design and build or quality installation and service, be assured you will receive a commitment of quality from everyone involved in your project, from start to finish.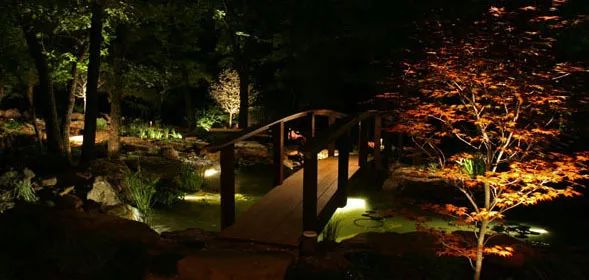 Landscape Lighting Design & Installation
For too many clients busy elsewhere during daylight hours, their landscape investment can only be enjoyed on weekends when they are at home during the day. That loss of daily enjoyment is solvable by transforming darkened grounds into a welcome fantasy of light. Landscapes emerge at dark under subtle outdoor landscape lighting to create wonderful shapes in hauntingly beautiful sculptured drama. Whether glowing with an inner light or outlined in elegant tracery against the night sky, landscape lighting paints the beauty of natural and cultivated forms, a pool, fountains and pathways with subtle shade, shadow and color.

When you work with MacQuarrie Electrical on a landscape lighting project here is what you can expect to receive from concept to completion:

We work with you and your landscape designer to flag locations for the lights and discuss your vision of the completed work.

The first phase of the work typically involves installation of underground conduits for 120 volt systems and direct burial wire for low voltage landscape lighting in accordance with local and national electrical codes. Unless this is a construction site or discussed with the owner prior to starting the work, all trenching will be done by hand. We are tree, sod and plant friendly!

Once the work is completed and the landscape lighting designer is satisfied with the fixture placement and electrical installation, a nighttime adjustment is scheduled and performed to fine tune the design.

We are experienced in all forms of outdoor landscape lighting from simple low voltage systems to more complicated high voltage mercury vapor lighting systems. All of our technicians are experienced licensed professionals and we subcontract no work to outside vendors. The results will be spectacular!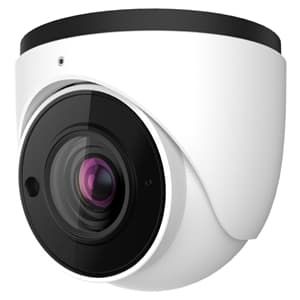 Security Camera, Alarm & Phone Wiring
Security Camera Systems
Why Would I Need Security Cameras?
Home security surveillance systems pick up images over a closed circuit and broadcast the images. These systems are comprised of three main components: the home security camera, display monitors, and a recording device. The security camera comes in a variety of types, can be used indoor or outdoor, have panning capabilities, and be switched on when someone walks past it.
The benefits of adding an extra layer of protection for your family and property. 
Deterrent to home invasion
Deterrent to automobile vandalism and theft
24/7 Viewing/Recording - Inside or Outside
Video Identification
Know who is at the door before opening it
Digital archiving for police evidence 
Live Online Monitoring
Day/Night Features
Viewable on a monitor or television screen
Hidden and exposed cameras available
Weatherproof and Vandal Resistant
Digital Video Recorder - motion detection
New Alarm System Installation

A sound security alarm system provides the peace of mind you need to know your home is properly defended against burglary, fire or other threats. One potential advantage of a home security system is a premium discount of 5 percent to 20 percent on your homeowner's policy. Peace of mind, and savings too.

Phone Wiring

Call MacQuarrie Electrical, your trusted local experts today and we'll have someone out to your home or office and get your phone lines up and running in no time -- we provide same day services in many cases. Give us a call today!